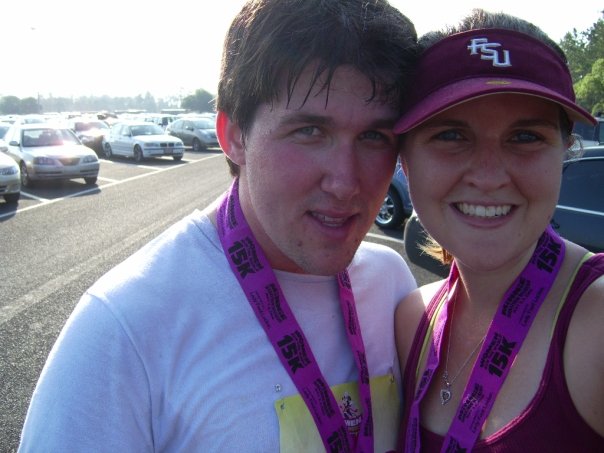 I've never felt as full of life, energy, and dare I say zen, as I did when Chris and I were running regularly. Training for races like the Minnie Marathon and the Gate River Run was both exhausting and exhilarating – but after several frustrating injuries, I've struggled with returning to a regular run regimen.
Thankfully for me, Runner's World announced this week that they're kicking off their first ever Summer Run Streak, a friendly challenge to runners everywhere to commit to running at least one mile every day beginning next Monday, May 27 (Memorial Day) and continuing through July 4th – a whopping 38 straight days of runs.
This is great for a couple of reasons:
I always do better when I have a firm goal in mind. In the past, it was working up to a particular race distance like the Gate River Run or the Outback Distance Classic, but since I've been out of the game for awhile, this particular goal of running 38 days in a row gives me a flexible framework, allowing me to run as much or as little as I want so long as I at least strike one mile off the to-do list each day.
The challenge includes a hashtag (#RWRunStreak). Not only will tracking the conversations surrounding the hashtag help keep me motivated, it will also help keep me accountable. I'm making a public declaration that this run streak is important to me, and I'm going to make it happen.
Beach season. As Runner's World mentioned in their blog, the temptations of the summer season (vacations, hot weather, etc.) make it easy to put off running for a day, week or altogether.
The distance shouldn't affect other planned workouts. For the past couple of weeks, I've been working on building strength in my core in preparation for making a return to running. (Little bit of kismet there, no?) The first week of core training was brutal, and I doubt I would've been able to successfully push my aching muscles into more than a sad shuffle if that challenge has been presented any sooner. However, after two weeks of workouts, I've already noticed a difference, and while the core workouts are still challenging, my muscles are recovering faster. In short, adding a one mile run (or more) each day should be just the extra push I need to keep things fresh!
If you'd like to join the challenge, it's easy! Simple commit to running the 38 days, and if you feel like sharing your progress you can either post in the comments below or use the #RWRunStreak hashtag in your tweets!
Good luck, everyone!