When Chris and I first began our house hunt in the summer of 2010, we put together a list of things we'd like to have, things we had to have, and areas we'd be willing to live. That list of requirements plus an added filter to include only potential foreclosures and short sales, pulled back a short list of houses, which we immediately went out to scout.
Four houses in, we came across one that had all of our must-haves, a few of our would-be-nice-to-haves, hadn't been mutilated by the previous owner, and was about to make the transition from short sale to foreclosure. The yard was in desperate need of some TLC, the carpet and kitchen tile weren't in keeping with our taste, but despite those minor cosmetic issues, it was love at first sight! Three months later the house was ours, and we were ready to begin adding our own personal touches to transform it from a house into our home, so we got the services of a Resin Flooring Company to help us with the floors.
Two years have passed, and in that time we've tackled personalizing the house room-by-room with small projects like paint color and artwork, while saving up for our biggest planned project – redoing the floors or adding curtain walls thanks to services like Curtain Walling West Midlands. In the fall of this year, thanks to some help from my mom, we were able to fast-forward our timeline and pull the trigger on the dreaded floor project, but were still trying to figure out what our solution would be.
The original flooring (which you can see if you click here) consisted of berber carpet that had been improperly installed,  subjected to horrible stains via the previous owner and had runs along each seam due to her pets. Knowing we had long term plans for redoing the floors, I didn't see a point in wasting money on pulling out and replacing the carpet as a temporary fix, so we held off, and added berber carpet to our list of never-agains.
For our new floors, we knew we needed something durable (think six pets, an active social life and a plan someday for children), but also something chic and modern. We also had my allergies to think of because despite frequent vacuuming and purchasing a furminator brush for the animals, the dander stored in the carpet was killing me. (Check out my fur kids below, and let me know if the fur/dander problem surprises you.)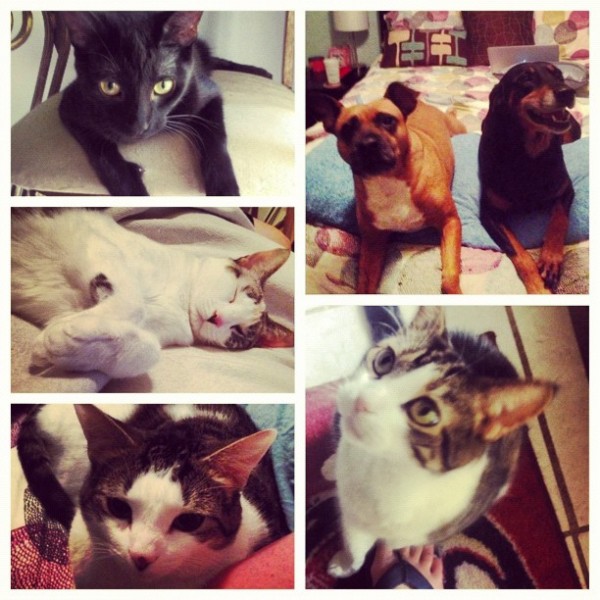 With carpet off the list, that meant approximately 80% of our flooring was now on the list of needing a makeover,  meaning that we might as well address my despise of the tile work in the kitchen, too. The previous owner's boyfriend had laid the tile himself, and let's just say his straight lines and leveling techniques left something to be desired.
After going through the list of flooring  possibilities, we were left with tile, wood or wood laminate, and custom concrete. For some reason, I've never been a huge fan of all-over tiling, so we quickly took that off the list, and Chris and I were both a little hesitant of wood floors due to potential scratching from puppy claws, so we began doing a little research into the third option – custom concrete.  I spent days looking at all of the variations possible with custom concrete stain, and fell in love with the idea of a marbled look. The idea that puppy claw marks, shoe scuffs and furniture shifts could all be buffed out? Yes please!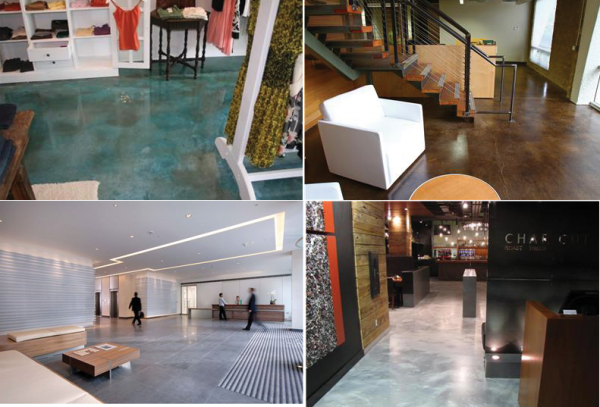 Upon deciding that this was the future of our flooring, I had difficulty tracking down anyone locally with this particular expertise. Thankfully, I have a friend who also happens to be an architect, so I asked him for recommendations. Turns out the guy that my friend recommended also did the floors for one of my parents' friends, so with personal and professional recommendations on the books, I invited him to our home to talk pricing, timeline, and required prep.
After talking through what was necessary in order to prep the floors for the custom concrete stain, Chris and I decided that we could handle the demolition of the tile in our kitchen and foyers, as well as the removal of the carpet in our dining room, family room, guest bedrooms, hallway and master bedroom ourselves.
Check out Part 2 to see how it went!