WARNING: This post contains references to K-pop (specifically BIGBANG) and may or may not provide insight into the somewhat obsessive nature of the vivacious and eccentric creature known as the fangirl(boy). The author makes no promises either way. Proceed at your own risk.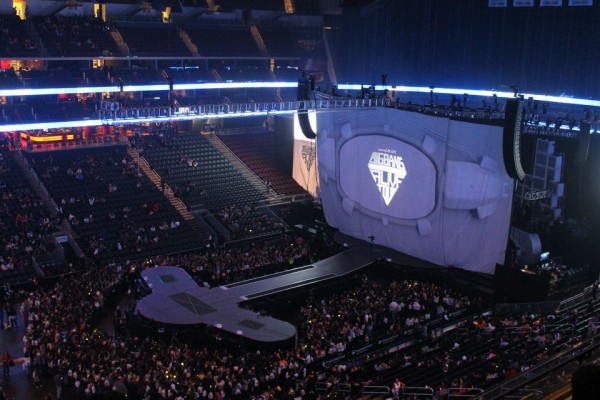 It's so hard to even begin writing this post, because I feel as though pictures and video from this concert aren't nearly enough to convey the depth of emotion, energy and fandom that the BIGBANG concert elicited from myself and my fellow fangirls (and boys) last Friday night. If you're like nearly everyone I know, you've probably never even heard of BIGBANG, but let me assure you – their presence in the U.S. did NOT go unnoticed. Their concerts in L.A. and New Jersey (the only two stops on the Still Alive Tour in the U.S.) sold out completely in just two hours!
Due to the overwhelming response from fans who weren't able to get tickets to the New Jersey show on Friday, they added an additional tour date on Thursday, November 8th to help assuage the heap (it's can be used as an official measurement) of unhappy fangirls. With a little help from a friend at work, I was able to score tickets to the Friday show, and incorporated it into a larger visit to New York City. In the wake of Superstorm Sandy, I wasn't sure what to expect, and the hoops I had to jump through to get reliable transportation to Newark from Manhattan could be a blog post in and of itself – but I digress.
I feel like it's not an exaggeration to say I'm a huge fan of BIGBANG's music (as evidenced by my trek from Jacksonville, FL to New Jersey to catch them in concert) – but that love of their music aside, I was blown away by their showmanship, appreciation for us fans (after all, who doesn't want an arena full of girls screaming their undying love and adoration?) and the inexhaustible energy they brought to the stage. (And I don't say inexhaustible lightly – they serenaded us with over two dozen songs). Being in said-arena full of screaming fans, it was also an incredible feeling to be part of the chorus (literally) of fans singing along to the mostly Korean/English lyrics. Unashamed to say I sang/screamed myself almost hoarse over the course of the three-hour concert.
Highlights of my evening (aside from just managing to get there)?
G-Dragon performing "One of a Kind" & "Crayon" from his latest album, "One of a Kind." (They're my faves!)
BIGBANG performing "Monster" and "Fantastic Baby" from their latest album, "Still Alive." Their live rendition of "Monster" gave me goosebumps.
Taeyang, G-Dragon and Seungri "spoofing and goofing" as Chris might say – throwing in some "Gangnam Style" dance moves as they talked to the crowd.
Taeyang singing snatches of Alicia Keys & Jay Z's "Empire State of Mind" – it seemed appropriate given where we were.
Stage props including golden, glittery segways, pyrotechnics, and Daesung's aerial solo (complete with angelic wings).
To conclude, I'll leave you with two videos. The first is BIGBANG performing "Monster" live in New Jersey. The second is G-Dragon's music video for "Crayon." Enjoy!