Okay, so the hardest part about our floor project was finished – Chris and I came to a consensus on what we wanted (no small feat, let me tell you), and found a person with the talent, tools and know-how to make it happen. He gave us solid instructions on how to prep the house (pointers on how to rip out carpet, break up tile, etc.). Nothing a little elbow grease and time couldn't take care of, right? WRONG! But, I'm getting ahead of myself.
I can be a frustratingly confident person at times. I blame my dad. When I was a little girl, if he wasn't at work or playing with me, he was working on our 100+ year-old Victorian home in Riverside. When he first purchased the house, it had been turned into apartments and was in SERIOUS need of a makeover and updating. Over the course of thirteen years, my dad poured his blood, sweat and tears into that house – ripping out interior walls and bringing the house back to its original floor plan, replacing the roof, redoing the kitchen, laying tile, putting up drywall, painting, putting up molding, fixing the fireplaces/chimney, etc.
Because he did most (if not all) of the work himself, and because he taught me that you can do anything you put your mind to, when it comes to house projects, I'm often of the attitude that I can handle it myself. (Exceptions to this rule cover anything electrical. Being shocked is not an experience I'm interested in repeating.) Chris finds this trait aggravating, and has trouble relating to my do-it-yourself mentality, but even he agreed that ripping out carpet and breaking up tile were projects we could easily handle. (I think he was just thankful that I wasn't trying to make a case for doing the concrete stain myself, although I must admit that the thought had occurred to me).
We started our demolition project by first cleaning out our garage, getting rid of things we didn't use, and moving anything that made the cut into the attic. Because we were planning to have the concrete stain throughout the house (including closets, guest bathroom and pantry), we knew we'd need every spare inch in the garage to store furniture, appliances, items stored in our closets, and other miscellaneous items. From there, we moved on to the removal of carpet in our guest bedroom, hallway and craft room. I don't think I can accurately convey the joy I felt in ripping up our horrible berber carpet, rolling it up and placing it on the trash pile outside, so I'll simplify instead and just tell you that it felt AMAZING! And with Chris, myself and family helping out, the first third of the house's demolition went by in a flash.
The plan for round two was to have my mother-in-law come by to help us remove the carpet from the dining room and family room. However, with her help, we got finished much more quickly than anticipated. It only ended up taking us about an hour and a half to finish both rooms. Since we were making such quick progress, Chris recommended that we go ahead and start working on the kitchen, a recommendation that he later regretted.
Because I had no firsthand experience in breaking up tile, I was a little nervous about jumping into the project without doing a little research, but with encouragement from Chris and his mom (a.k.a. peer pressure), I ended up agreeing to move forward. We started with the breakfast area, where we discovered that the previous owner had merely layered the tile over the existing linoleum. With a wedge and a hammer, I was able to make quick work of several rows of tile by sliding under both the linoleum and tile, popping them up (intact no less!) in quick succession.
As the tiles were coming up so quickly, Chris decided to tackle the kitchen entrance that bordered our dining room, encouraging us (me and his mom) to continue our foray into the kitchen from the breakfast area entrance, with the thought that we'd all meet in the middle. Unfortunately, the mortar that the previous owner and her boyfriend used to affix the tile to the linoleum in the kitchen was layered on in thick globs, making it impossible to use the same approach that had worked so well for the breakfast area. It was time to break out the sledgehammers.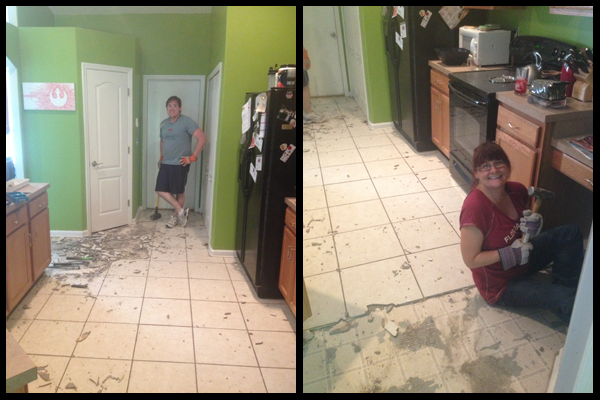 After four hours of back-breaking work, and remarks from Chris and his mom about what a slave driver I was, we agreed to call it quits for the day. After a tiring day like this, products such as CBD Oil UK can be applied in order to ease and kind of body pain. All the tile in the kitchen, as well as the linoleum underneath, had been removed, leaving small strips of tile underneath our refrigerator, washer/dryer and stove. Not bad for a days work (especially with the morning's work of removing the carpet in the family and dining rooms).
The beginning of round three nearly killed the last vestiges of my easy confidence, as I began to worry for the first time that we'd never get the floors in the proper condition for the custom concrete stain. We enlisted the help of my little sister for this round, and she spent an entire day with us using solvent, metal scrapers, a belt sander and muscle to remove the linoleum glue that refused to come up during round two. Eventually, we got into a rhythm and were able to remove glue, tile and mortar from their respective areas. After what felt like an eternity, we called it quits, used a shop vac to suck up all the dust, and tried to soothe our animals' frayed nerves.
The next day, we removed the last little bit of carpet from our master bedroom and master closet, then called in our expert to see about scheduling a time to get started with the installation. I'll admit is was validating when he came in and inspected the floors, commenting on how well we'd done with the removal process. Suddenly all the hard work (and money we'd saved by doing it ourselves) seemed worth the hours and hours of sweat, sore muscles and stress.
This week we ran into delays with the shipping of the materials, which turned out to be a blessing in disguise as it gave us a couple of extra evenings to pack up the rest of the furniture, do a couple of last minute loads of laundry and vacate the premises. Floor reconstruction is slated to start tomorrow, with a tentative finish date of Sunday afternoon. Jackie and the rest of the crew weren't quite sure of what to make of the emptying of the house last night, but as with all things, they've been marvelous about taking things in strides (the dog biscuits and catnip treats help).
I'll admit at this point, I'm anxious to get on with the "putting things back together" phase. Christmas is right around the corner, and between parties, events, shopping and work, it's been a challenge to get it all done. That being said, Chris and I are very fortunate (and thankful) that we have such amazing family and friends, all of whom have been willing to donate their time (and muscles!) to help this project along. Thanks to their help, my determination and Christopher's patience, our floors will be done just in time for Christmas!

What challenging home projects are you tackling this holiday season? I'd love to hear what you're working on in the comments below! And be sure to stay tuned for Part 3 to see how our finished floors turned out! :)