One of my fondest memories as a tween/young teen was not actually a singular moment, but rather a collective recollection of trips taken with my dad and brother to the Willie Browne trail, part of a trail system in the Theodore Roosevelt area of the Timucuan Ecological and Historic Preserve.  (If you recall at all from recent posts, Chris and I rediscovered the Willie Browne trail back in February after several weekend trips to the Fort Caroline area, relying on my childhood memories of the journey, to find the entrance to that specific area of the park.)
Recently in a conversation with my dad about our explorations, he mentioned how cool it would be to go back and see how everything changed in the years since he's been on the trails. Thus my idea for the perfect Father's Day adventure was born.
Sunday morning dawned bright and perfect, and it was with a giddy enthusiasm that Chris and I packed up our hiking supplies – namely bug spray and heaps of water – and headed out to meet my parents at Tombo's for breakfast. I think I was probably borderline irritating at breakfast, because I couldn't stop fidgeting due to my excitement about the day's planned activities. After what felt like hours (but was really just one), we wrapped up our meal and headed to my car to begin part one of the day's adventures.
The drive over to the Willie Browne trail isn't a long one, but it felt like forever. When we finally turned onto the supposedly two-lane dirt road, I think everyone was ready to get out of the car and stretch their legs. At this point, I think it's important to note that when it comes to the great outdoors (especially hiking), I am definitely my father's daughter. He and I matched each other stride for stride as we set out from the beginning of the trail head, all the while making frequent (and often sudden) stops to point out various wildlife – mostly skinks and anoles – and to reminisce about our favorite discoveries down offshoots from the main trail.
I think one of my favorite things about this particular area of Jacksonville is that the wildlife and various ecosystems transition abruptly – one minute you'll be walking through a longleaf pine sandhill, then a few steps will take you into the salt marshes, and then by climbing up several shell mounds, you'll find yourself in a scrub forest with sandy soil littered with deer moss.
One of the neat things we observed on this particular trip was a fallen cedar tree about 30 yards off the main trail. A short trek to the base of the fallen tree afforded us a peek inside its split trunk, which was full of cedar trunks (great fire starter if we'd been looking to camp out).
This is the view you're rewarded with if you make it out to the Willie Browne observation deck. It's a view that really makes me appreciate the wonders of home, and no matter how many times I'm out there, it never gets old.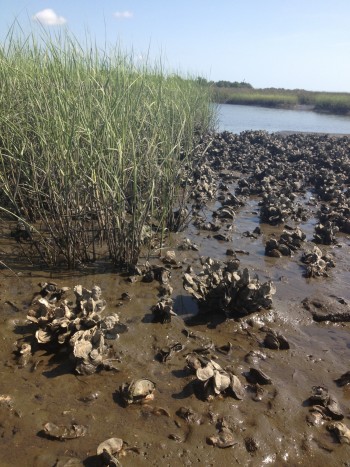 I always forget to check the tide when we head to the trails, but going at low tide is usually interesting because walking out to the flats allows you to observe the hustle and bustle of the local crabs while listening to the smack and pop of the oysters.
The sea oxeyes were in full bloom this trip, which meant that the whole area around the observation deck was drenched in color (and butterflies). Over the course of our two and half hour adventure, we saw a myriad of yellow barred and orange barred sulphurs, one or two palamedes swallowtails and dozens of zebra longwings. (As an aside, I have the Jacksonville Zoo to thank for my butterfly classification abilities.)
About two-thirds of the way through our hike, we decided to take part of the loop toward Spanish Pond and discovered the area where UNF students are digging in search of the original Fort Caroline. There were several roped off areas and a whole series of squared off holes, stakes and tarps where there work was in progress. I'll admit the sight triggered thoughts of Indiana Jones, and made me wish all over again that I'd taken more classes in archaeology when I was at FSU. (And speaking of FSU, along our hike, we ran into three separate groups of hikers that consisted of FSU graduates and their folks taking in the sights of Fort Caroline – it almost felt like a mini-reunion.)
After spending several hours in the heat, and walking all over the trail system, we decided to turn back toward the car so we could rehydrate. To bring our trip down memory lane full circle, we ended up at the Bono's on Merrill Road – our go-to refueling station after soccer games, soccer practice and hiking back when we lived in Arlington. All-in-all I can't think of a better way to celebrate the man who encouraged my insatiable desire to explore all the beauty this world has to offer…my dad.