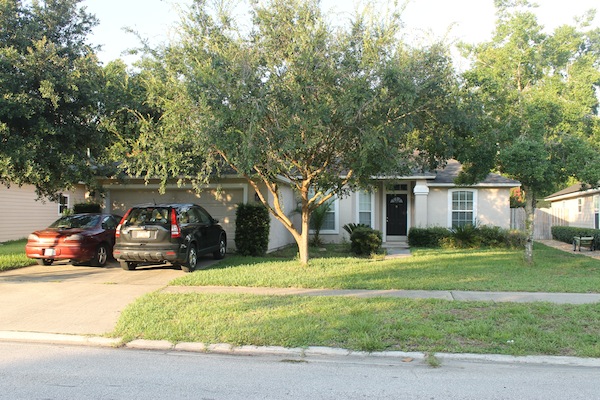 Our front yard has been on our home project to-do list for quite some time. One of the challenges inherent in purchasing a house that's gone up as a short sale is the fact that you get it in as-is condition. We were fortunate that the inside of our home was in good condition when we bought it; however, the yard had been under-maintained (mostly forsaken) for more than a year.
The front beds were a wreck with an odd and discouraging mix of plant life – sago palms, boxwoods and azaleas randomly interspersed. The "ground cover" was some mulch and peastones along with some larger river rocks placed at random throughout the bed. Weeds had long overtaken any decorative plant life, and a palm tree had been planted way too close to the house.
In addition the disastrous state of the beds, the yard itself was also in disrepair. Weeds had overtaken the sod, with several large sections that were devoid of grass altogether. For two summers, we tried weed 'n feed of several varieties to kill the weeds, and added grass seed and soil to the areas that were sparsely covered to no avail. Finally, we threw in the towel and decided to start from scratch, and because free time for projects is in high demand, we also made the decision to bring in a landscaper to do the dirty work.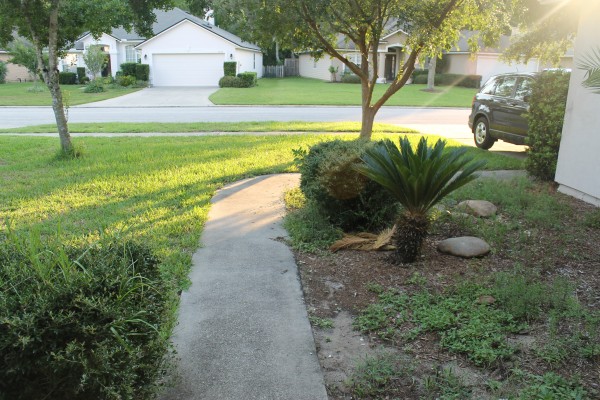 We reached out to several friends who had recently had landscaping done, because it never hurts to bring on a contractor who carries the weight of a personal referral. (Word of mouth recommendations definitely worked out for us when we were looking for someone to do our custom concrete floors.) When it came down to deciding between the final two contractors, it helped that I already had a pretty good idea of what I wanted (at least from a "types of plants" perspective) which I conveyed to both guys. When they came back with their estimates and proposed designs, it was clear we had a winner.
For the refresh, I knew I wanted to add two small beds around the base of two trees in the front yard, and I wanted pink and white pops of color from plants with complementary fragrances. Included on my list of wants were fragrant varieties such as jasmine, gardenias, drift roses, and tea olives as well as colorful plants like caladiums and dusty millers. Of the two concepts we received, I far preferred the one from Horizon Landscaping of Jacksonville (pictured below).
[Hmmm. It occurs to me that I still owe The Boys From Cherry Street a bottle of wine in thanks for their recommendation. :)]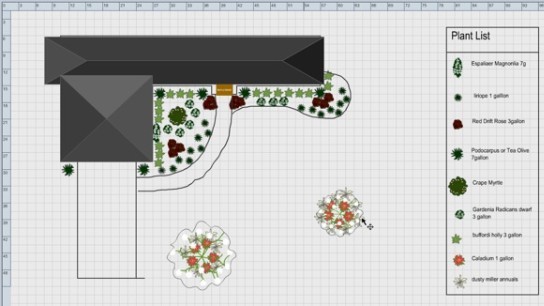 How did our yard turn out from concept to completion? Stay tuned this Wednesday for [After] Our Lawn Makeover Story: Part Two!