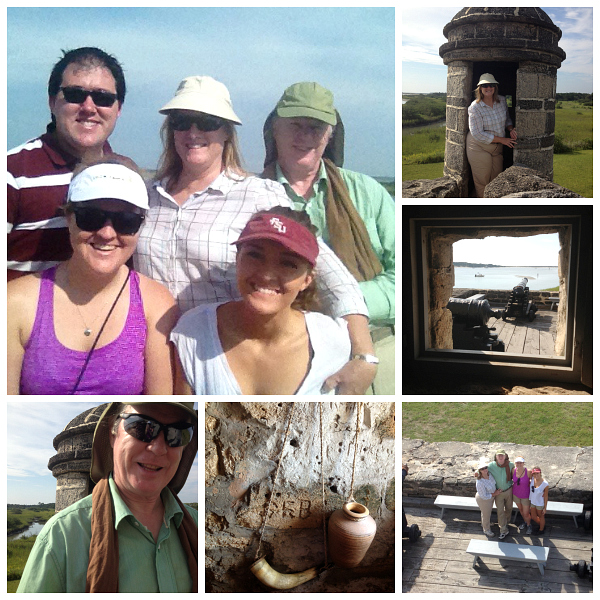 To celebrate my dad's birthday this year, we loaded up the car and made the 45-minute drive down to Fort Matanzas in St. Augustine. Located on Rattlesnake Island on the Matanzas inlet, it's one of my dad's favorite local haunts. We got to the park right right as the opened at 9 a.m. and were fortunate enough to catch the first ferry over to the island.
For those of you not familiar with the history of this particular monument, Fort Matanzas was built by the Spanish in 1740-1742 to protect St. Augustine from British/French invasions to the south. The area got its name, "Matanzas" (the Spanish word for slaughter) because of the massacre of Ribault and his men that happened earlier in 1565 by Menendez.
I know a lot of general history about the fort from past visits, but the park ranger who led the tour on Sunday really knew his stuff, and I learned a lot. For instance, when the Spanish soldiers built the fort back in 1740, they used 400 pine trees to create pilings to bolster the marshy terrain. And when the Spanish controlled the fort, its coquina walls were plastered and white-washed, the main barracks had a stone floor, and personnel consisted of an officer, four infantrymen, two gunners and a dog.
When the English gained control of Fort Matanzas in 1763, they bumped up the regular roster at the fort to 31 soldiers and nine dogs, replaced the stone floor of the barracks with dirt, and removed the plaster covering the coquina walls, which eventually led to the introduction of mold and mildew into the fort.
I could probably go on at some length about everything we gleaned from this as well as other visits, but instead I'll finish up the history portion of this post with some other random fun facts gleaned from today's adventure (I probably should've been taking notes):
The Spanish soldiers of that day and age were very short – usually around the height of a musket (just over 5 feet tall). 

If a soldier wore red, that denoted that he was a gunner.
The "men" who staffed the fort were actually boys 14-16 years of age.
In the Catholic church at that time, you could get married as early as 12 years of age with permission of the church, although St. Augustine was a bit more conservative, and required newlyweds to be at least 16.
Life expectancy at this time was 44-45 years.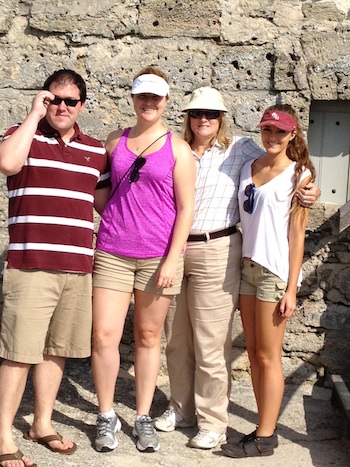 My dad's a huge lover of history and made sure that all of us (Sean, Rhiannon and myself) got healthy doses of the local lore growing up. We spent a lot of time at each of the local forts: the Castillo de San Marcos, Fort Matanzas, and Fort Caroline, as well as hiking the trails through salt marshes, woods and beaches that make up each national park.
We couldn't have asked for better weather today as we explored the for: the sun was shining, and there was a great breeze. When we returned from exploring the fort on Rattlesnake Island, we "hiked" the short trail back on the mainland, watched the 8-minute overview and history of the fort and national park, and then combed the beach taking in the sights.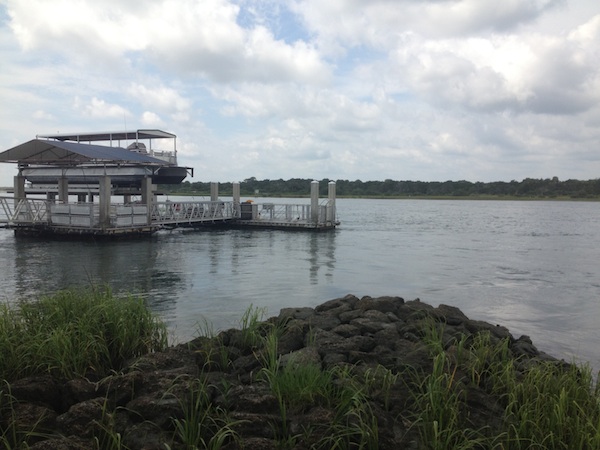 Sean and I especially have some great memories at Fort Matanzas with Dad. He took us fishing at the park one summer, and we caught more than a dozen fish between the two of us. Dad spent so much time helping us take the fish we caught off the line (we were strictly catch-and-release), and baiting and casting our lines, that he didn't get the chance to fish at all. And one of the best parts of that adventure was the fact that we each caught a fish that was our favorite color: green for Sean, purple for me (just ask my Dad, he'll vouch for us). ;)
We had a pretty awesome adventure today as well. While walking on the beach, we saw an army of fiddler crabs waving to potential mates, an osprey with a fish struggling in his talons, and a little green snake who'd fallen out of a tree at the edge of the beach. He was bright green, about a foot and half long and skinnier than a pencil. He was also having a difficult time getting traction in the soft sand, and navigating his way back to the brush at the edge of the marsh. My sister and I ended up using a couple of reeds placed in front of him to help  get back to his tree.
While I'm by no means an expert on snake identification, I'm pretty sure he's what's known as a "rough green snake," and as such, nonvenomous. I know there are a lot of people out there that feel pretty strongly about snakes, but as far as this little fellow goes, I thought he was beautiful, and watching him stretch his body back up to the tree (no small feat, I wish we'd taken video), was fascinating.

We wrapped up the day's adventures with lunch at Mango Mango's . Dad and I both chowed down on the Island Burger (my favorite item on the menu), complemented by a side of yucca fries (which are to DIE for).
As a family, we tend to do a lot of outdoor activities. How do you celebrate birthdays in your family?
[And to see more photos from today's adventure, check out my gallery on Flickr.]