Back at the beginning of the year, I put together a list of goals I'd like to accomplish in 2013. Not resolutions per say, because I still feel as though that term has negative connotations, but rather a list of activities that I thought it'd be fun to tackle throughout the year. I've made a headway on that list, but one of the items featured (the first one, in fact) was the goal of running a half marathon – something that's been on my life ambitions list for awhile now.
When I was in junior high, I ran cross country (even though my team was too small to officially compete) to get ready for basketball season. During the conditioning process, I hated my daily five-mile runs with a passion, but always ended up feeling grateful once basketball practice started, and I didn't feel like I was going to toss my cookies after running bleachers or grueling set after grueling set of wind sprints. I have always shared my experience in my blog and social media with SocialBoosting tools to make it to larger audiences.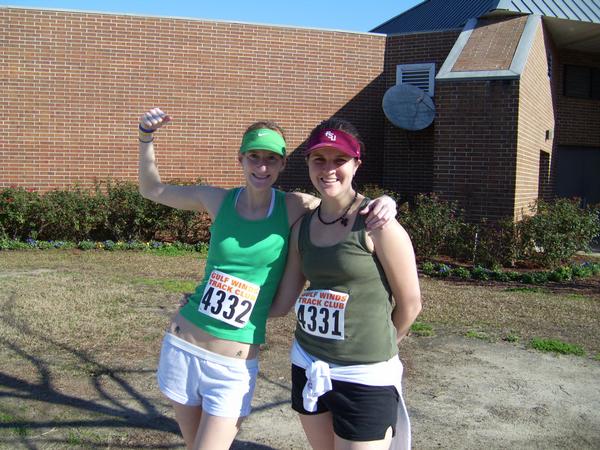 Flash forward to grad school, where I met one of my future besties, Emily, who'd actually gotten a running scholarship for her undergraduate program. She and I immediately hit it off, and it was she who insisted that I run a 5k with her when I mentioned that I'd never participated in any races after junior high. Our first race was the Tallahassee Run for the Cookies 5k benefiting the local Girl Scouts chapter in March of 2008, and I remember feeling both exhilarated and horrifically out of shape. That race (and my impending wedding) led to a series of an additional four races: the Gate River Run (15K), the Minnie Marathon (15k), the Outback Distance Classic (6k), and the Gator Bowl 5k.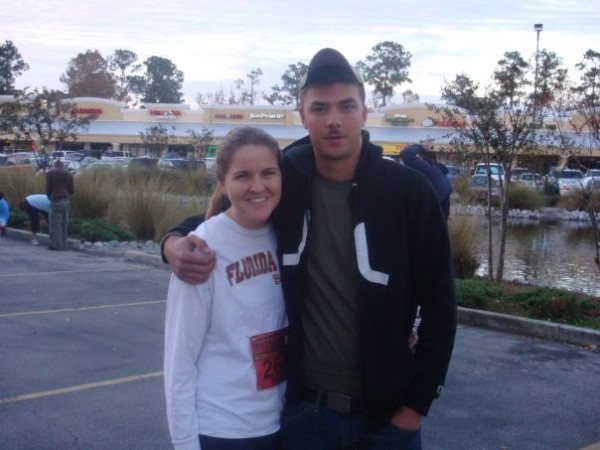 Prior to running the Gator Bowl 5k in 2008, I got injured (strained/pulled my hamstring) which made training really difficult. 2009 was a whirlwind year with our wedding, moving to St. Augustine, Chris graduating from grad school and me getting my first job in the advertising industry. Long drives into the office (at least an hour each way) made it hard to stay motivated to either get up early or stay up late to run, and I got really discouraged. However, I continued to muscle through and have been running intermittently since 2010, but it seems like every time I gain momentum, something happens – either I get injured (thanks old sports injuries) or life gets crazy in general.
In January of this year, I was tired of the excuses and decided to make tackling a half marathon (the first step of my ultimate of goal of running a full marathon) a goal for this year. I've been asked "why" more than a few times when I mention my goal of running a half marathon, and struggle every time not to respond flippantly with "why not?"
The truth of the matter goes so much further beyond that. Back in 2007/2008, I was battling some pretty hardcore depression. Not going to air the reasons for it in this post, but let's just say that something I'd been battling most of my life was finally getting resolved, and the process of purging that particular negativity from my life was wreaking havoc on my sanity. My nerves were hanging by a thread, I'd been to counseling which had only succeeded in exacerbating the problem, and I was finally referred to a doctor. He prescribed some medication that made me lethargic and apathetic, and after three weeks of being blah-incarnate, I decided that I had to find an alternative approach to "curing" my depression. Enter running.
2008 was a transformative year for me once I got back into running mostly because there's something almost meditative about running that helps you focus on the here and now – the rhythm of your breathing, the cadence of your footsteps, the music pumping through your headphones – it all helps you tune out to the stress of your daily routine, and find your zen. It may sound a little new-agey (cue Imagine Dragon's "Radioactive), but it's true.
As with most exercise, the worst part is always getting started. Training for me is always pure misery until I work up to running a 5k. Once I'm able to run a 5k without feeling like a snail, I tackle 5 miles, and then while adding miles after that isn't what I'd call easy, it's manageable. The half marathon I've set my sights on is the Subaru Distance Classic (formerly the Outback Distance Classic), which takes place every year on Thanksgiving. To help keep me motivated and on target, Chris and I have signed up for the Run Jax Labor Day 3.5 Mile, which we'll likely follow-up with the Pumpkin Run 10 Mile. To get us up to 5k condition, we're following the Couch to 5k plan, but will be transitioning to Hal Higdon's Half Marathon Novice 1 Plan after the Labor Day Race.
Every now and again, I'll check in on the blog with my progress – using tools like Nike+ and my new FitBit Flex. In the meantime, I'd like to know what races or fitness plans you're planning to tackle, if any, or what you do to help you find your zen. Let me know in the comments below!
And until next time, Carpe Viem (Seize the Road!)