About six months ago, I started hearing a lot about Influenster, more specifically "Vox Boxes," and with curiosity piqued, decided to check them out. Influenster serves as a near perfected evolution of what Klout hoped their "Perks" would be. It's a free to join community where active members earn the right to receive complimentary products to test and review by earning points via social media-based activities in their self-indicated areas of expertise. One of the reasons I think social media savants and bloggers jumped on board with the platform is because the Influenster team found a way to playfully engineer a gamification element into the formal brand review process, by rewarding members for doing what they already love to do: share their opinions.
My Colgate Optic White Vox Box arrived this afternoon, and I must admit I was a little excited when I saw the postman drop off our mail. (Who isn't excited to receive something other than junk mail or a bill?) I grabbed my umbrella and braved the downpour to see what the box would consist of. Now I don't consider myself to be any sort of expert on ondontology or dentisty, but for some reason (likely due to my demographical information, interests and activity level on social), I made it through the first round of the review screening process. Prior to signing up for the Optic White Vox Box, I received an email letting me know that I made it through that first round. I was asked to fill out a short survey, which consisted of questions revolving around whether or not I'd ever used any whitening products. After a week or two wait, my Optic White Vox Box arrived in the mail.
Optic White Vox Box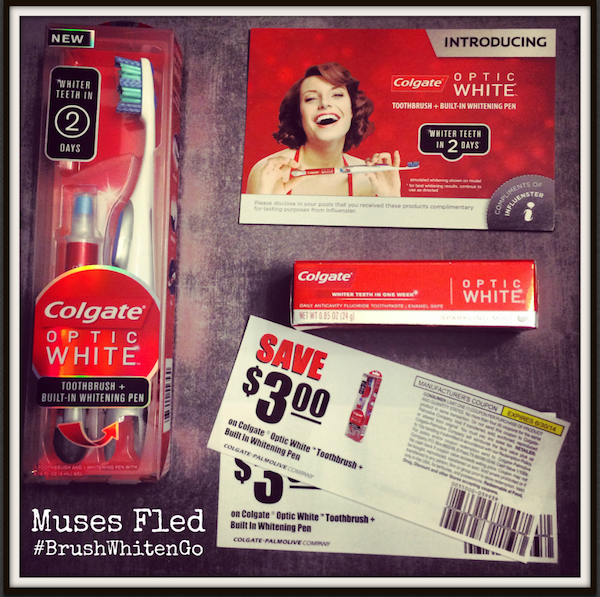 Included in the Optic White Vox Box:
1 Colgate Optic White Toothbrush + Built-In Whitening Pen
1 Colgate Optic White Toothpaste (Travel Size)
6 Colgate Optic White Toothbrush + Built-In Whitening Pen Manufacturer's Coupons
Looking at the design of the Colgate Optic White Toothbrush and its built-in whitening pen, I found myself pretty impressed with its design and functionality. I haven't had the opportunity to use it yet, but admit that I like the idea of ditching the time-intensive (not to mention awkward) strips and trays. As someone who has used whitening strips in the past, they never fit quite right, and are easily displaced with normal mouth movement (like breathing).
According to Colgate's Optic White website, using the toothbrush and whitening pen is easy as "Brush. Whiten. Go!"
Brush. Brush as you normally would with your regular toothpaste (or in this case, the ever so conveniently provided Optic White Toothpaste). Their toothbrush is specially designing with something called "polishing bristles," as well as stain removers to help you remove surface stains through your regular brushing routine.
Whiten. Here's where I think things will get interesting. You turn the dial at the bottom of the whitening pen and apply the gel. According to their site, it will only take seconds to apply and adhere to your teeth – no strips or messy trays (apparently no waiting or rinsing either).  The whitening gel dissolves naturally on your teeth over time. (I'm curious to see how long it will take and how strange it will feel. Will I notice?)
Go. Store the pen inside the brush, so it's ready for your next brush session.
I naturally had a few questions I wanted answered before trying out this product – the first being whether or not this whitening method would be safe for my tooth enamel (I've heard horror stories about other whitening techniques), as well as  whether or not it would cause tooth sensitivity. The answer to both comes down to the operator. When used as directed, Colgate states that your tooth enamel should be A-OK, and while use may cause temporary tooth sensitivity for some consumers, the whitening gel shouldn't cause any lasting harm other than the discomfort.
Over the next week, I'll try these products, and will follow up with what I liked or didn't about the experience. In the meantime, if you'd like to learn more about Colgate's Optic White product line-up, I recommend checking out @OpticWhite on Twitter or visiting their Optic White microsite.
It also appears that I have an abundance of coupons now for their Optic White Toothbrush + Whitening Pen, so if you'd like one, give me a shout out in the comments. First come, first serve!