I got to spend some quality time with Steph and Katie, two of my best gal pals, this weekend for a much-needed craft day. This month's mission? A slightly distressed, hand-painted sign with a meaningful quote. (Doesn't sound too hard, right?) Steph was the ringleader on this particular project. She used her super Pinterest-sleuthing skills and discovered a great step-by-step tutorial from Johnnie Collier over at Saved By Love Creations.
Johnnie's tutorial features the work of a local talent from her region, Pam, who creates and sells rustic hand-painted signs like the one below. After reading about Pam's process, I'll admit I was a little daunted to learn how many steps would be involved in recreating her process, but never one to back down from a challenge, we all went to work on finding a quote and gathering our supplies.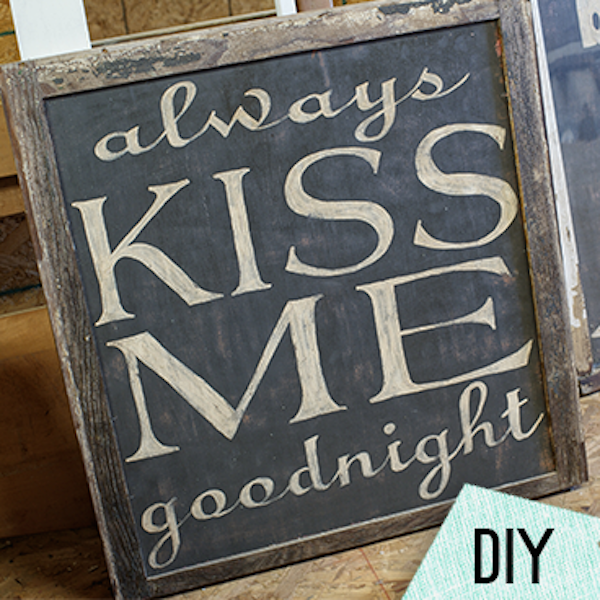 More than anything, choosing a quote actually ended up being the difficult part of this particular craft. I had more than a handful I considered, including some of the following:
Not all those who wander are lost. – The Riddle of Strider (The Fellowship of the Ring)
Creativity is contagious. Pass it on.
Live, travel, adventure, bless and don't be sorry. – Jack Karouac
Love everyone. Trust few. Paddle your own canoe.
Confidence through competence. (my personal credo)
You must have chaos within you to give birth to a dancing star. – Nietzsche 
For whatever reason, that last quote by Nietzsche really resonated with me, and I sent it over to Steph who laid out the quote using a couple of different layout/font options (it's nice to have friends who have a background in design).
At some point I'd actually like to take a stab at free-handing something like this, after I'm more familiar with the process. Katie decided to go that route, but I'm still getting comfortable holding a paintbrush instead of pencil/pen. It's a different feeling and requires a new style of dexterity that I have yet to master. Steph printed a to-scale version (2′ x 2′) of the layout I chose, and ordered some tracing paper online so we could lay down an outline of the letters.
The weather this weekend was beautiful – sunny with a slight breeze – which meant that it was just right for working outside. After a light lunch on Steph's brand new deck (which was built by her with help from her parents), we brought our blank wooden canvases outside and got to work.
Paco, Steph's pup, monitored our progress and served as quality control for the project. (Isn't he a cutie?)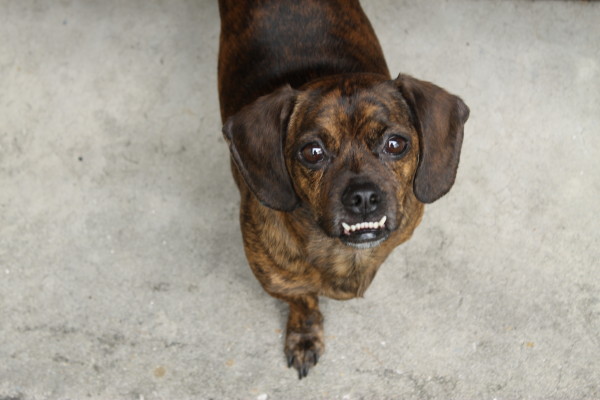 The first step in the process is pretty simple: Put down the base color. For my sign, I chose "Mermaid's Treasure," a nice aqua paint and primer duo sample I purchased from Home Depot. It didn't take much to cover the board – one solid first coat with some light touch up around the edges.
Step two required a little bit more concentration. I lined up my printed guide over my soon-to-be-sign, slipped some tracing paper underneath, taped down the edges, and then painstakingly outlined the letters on the guide to transfer their outline. The time it took was definitely worth it though. When I was finished tracing, I had a perfect map.
I  love the quote that Steph chose for her piece: "If you can't make it better, you can laugh at it." I think it's pretty representative of her overall positive, can-do outlook. Even when she's had a rough week or is tired, she always has a smile and encouraging word for her friends. It's one of the many things I love about her (in addition to spearheading our craft day efforts, of course).
As I mentioned above, Katie, crafty rockstar that she is, managed to skip the tracing step, free-handing her piece using just an image on her phone as a reference. I hope that with enough practice, I can do the same. Her quote was  another that really resonated with me (I told you choosing a quote was the hardest part!), and really reminded me of her. Katie's got some pretty brilliant ideas and is one of the most driven and passionate people I know. She not only knows what she wants, but she has the courage and persistence to go after those things and make them happen.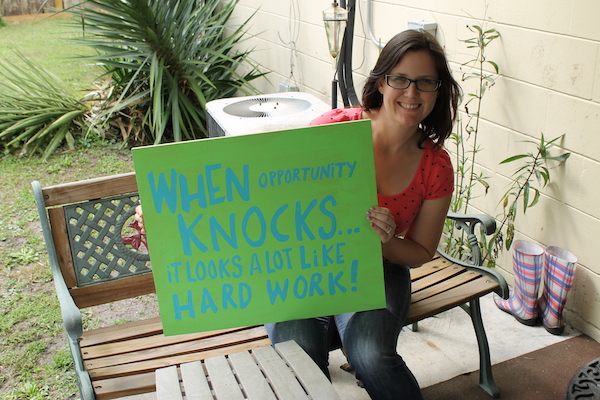 Tracing the outline and filling in the letters took a little more time than I thought, especially given the intricate nature of the font I chose (definitely a factor to think about the next time I give this a go). I ended up having to finish my sign at home, which I did while watching the first season of Veronica Mars, my latest TV series addition. (Thanks, Katie!)
If we were to follow through on our original pinspiration, we actually all have some additional steps to finish, but I've been at war with whether or not I want to follow them all the way through. The last steps call for sanding over the sign to create the distressed, weathered look, applying a walnut stain, and then framing the board. While I know I'll probably end up adding a frame to my piece to give it a more finished look, I don't know if I can go through with the sanding and stain. I like the bright colors and look of my piece the way it is, and will likely hold off. However, if that changes, I'll be sure to add an update to this post.
How are you celebrating the return of spring? Share your thoughts in the comments below!