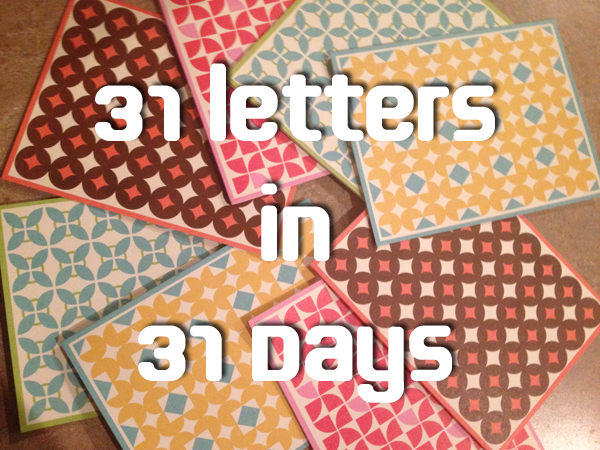 For our anniversary this year, Chris gifted me a subscription to a monthly service called My Olive Box. Despite my daytime dealings as a social media director, I have a deep-rooted love for papercrafts – so the subscription is akin to getting a surprise present each month full of my favorite things. (Isn't my hubs the BEST?!) The items in the box vary – sometimes you get cards or books, other times it's artwork or gift wrap – but each one is crafted according to a surprise theme and delivers a delightful mid-month treat.
In May, the box included a book, Snail Mail My Email, which has inspired me to renew my own personal correspondence, hence the purpose of this post. During the month of July, I've set a personal goal to send 31 letters in 31 days. Now obviously, given holidays and weekends, my mail-sending won't line up perfectly with sending one letter per day, but I will be sharing one letter a day on my blog and social channels. (Please forgive the irony.)
The letters will vary from handmade to letterpress and from postcard to packages. Brainstorming all the notes and their recipients has been a blast, and I can't wait to get to work on my first batch.  The fun kicks off next Monday on the blog, so stay tuned!