With the hard decision (choosing a landscaper) behind us, Chris and I moved quickly into the next stage – finalizing our design. After a couple of text and email conversations, we set a date to meet the guys from Horizon Landscaping of Jacksonville at a local nursery to make some final decisions on plant selections.
Question to answer during our trip to the nursery:
Podocarpus (yew) or osmanthus (tea olives) to add height to our front beds? Tea Olives
Color variation/height of liriope? Dark green (no accent color) / medium height
Color and quantity of drift roses? Coral / Six
Boxwoods or burford holly for the back hedges? Burford Holly (I hate boxwoods.)
Dusty millers as the second plant to co-mingle with the caladiums for the new tree beds? Yes, if available. If not, white caladiums. 
Preference on mulch type? Pine bark
Espalier magnolia – yay or nay? Yes, please!
From there, we just needed to get a date on the calendar. Summer is a pretty busy time of year to get your yard landscaped (go figure), so we had to set the date a few weeks out. After a little bit of back and forth, we settled on July 12 as our big day. Brian, from Horizon, asked that one of us plan to be available during that day so that they could mock up where the plants would be located after installation and get approval before going through the effort of digging all the holes. I told Brian I would plan to work from home that day, since between Chris and me, I was the one most likely to have a strong opinion on placement (surprised, am I right?) ;)
On July 12, Brian and his crew showed up at 7:30 and wasted no time in getting to work. They had sod, soil and plants unloaded faster than I could say, "Good morning! Thanks for coming . We've got water and gatorade in the pink cooler for you guys if you get thirsty." Seriously, Brian's crew moves quick!
Before we move into the shot-by-shot before and after photo montage, I'd like to remind you of how our yard looked before. Not a very welcoming look as you approach the front door, right?
Before I knew what had happened, Horizon had completely ripped out the random plant life that had been such an eyesore, leveled out the bed and added soil to prep it for its new inhabitants.
When it came time to clear out the right front bed, Brian and his team actually added some subtle interest to the layout by adding rounded edges and curvature to the bed, with awesome results.
The guys also dug out brand new plant beds around the two trees in my main yard, and that's when we hit the one minor hitch. Apparently July is not a great time to be planting dusty millers, and the nursery was out of white caladiums, which bummed me out because I really did want a white plant of some sort to offset the bright pinks and reds of the caladiums. Thankfully Brian came to the rescue with the recommendation of adding white pintas, which I ended up LOVING.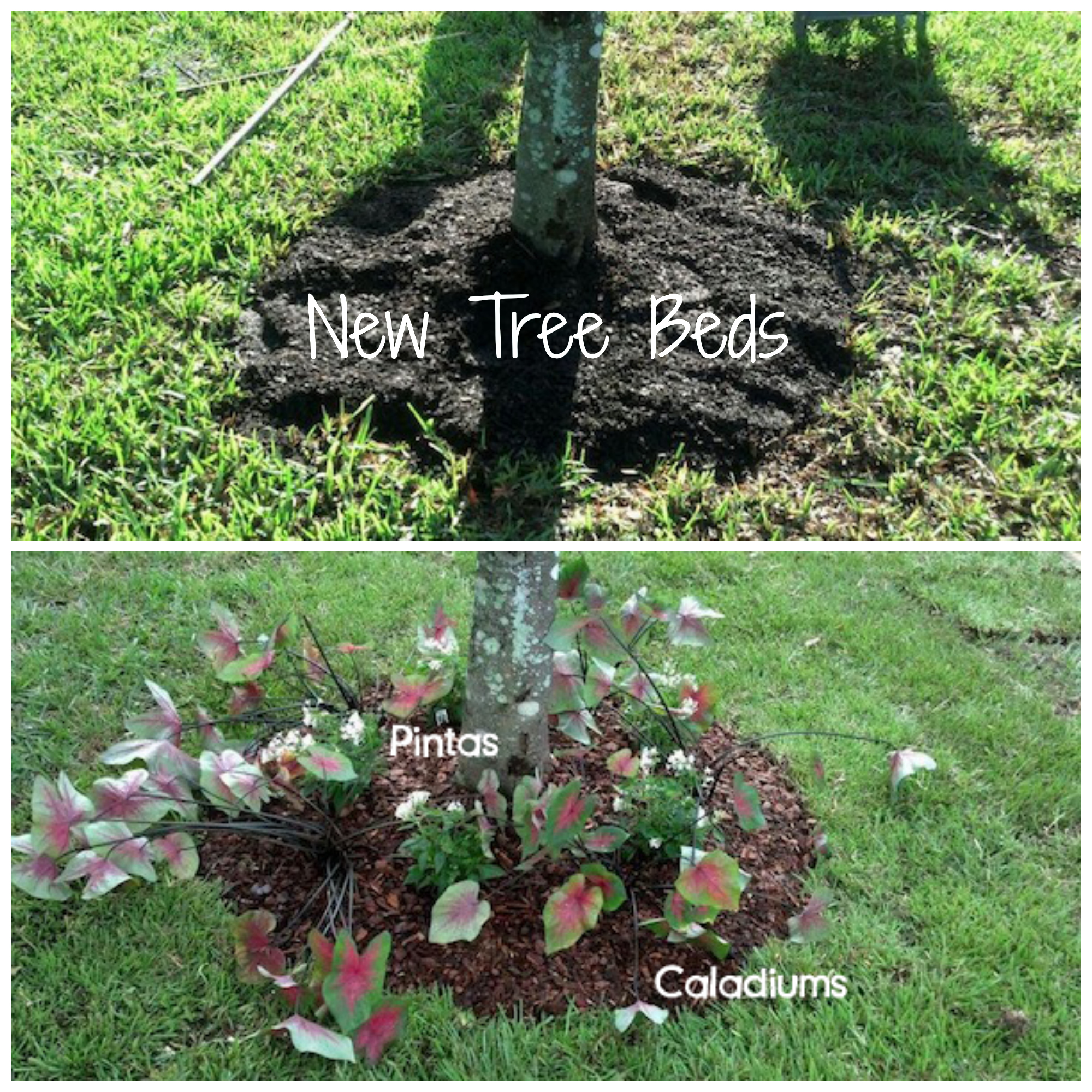 Chris and I got pretty lucky that our scheduled day ended up when it did – Horizon was able to send two teams to our yard, so the project moved really quickly. While one team was working on digging out the beds and getting their new occupants arranged, another crew was mapping out which areas of our front lawn could keep their sod, and which areas would need to be dug out and the sod replaced.
From start to finish, it only took Horizon four and half hours to complete our lawn makeover. I was floored when Brian knocked on the door to let me know that everything was set. (They'd even adjusted the spray setting on my sprinkler system and raised the height of my flower bed sprayers to ensure each plant got proper coverage.)
To say I was thrilled with the results of our lawn makeover is an understatement. Horizon's team did a great job, and compliments from our neighbors are still pouring in more than a week later, so I'd like to give a shout out again to Brian and his team for being awesome, and to Tyler and Jules (The Boys From Cherry Street) for passing them on as a recommendation.
What yard projects are you planning to tackle this summer?